If you were looking for MYGRANDMATIME'S FREE WEBSITE please click here.
This MEMBERSHIP ONLY website contains the videos that go with Grandma's "Let's Read Together" series, along with GAMES, PUZZLES, and WORD SLIDES to help you learn English. It also has all of Grandma's DRAW WITH GRANDMA videos.
Click here to find that the "Let's Read Together"  and "Draw with Grandma" dvds are available for only $10 each,
OR you can view these videos ($5 USD for 30 days OR $30 for a lifetime membership) on this website by clicking the "BECOME A MEMBER" button at the top of the page.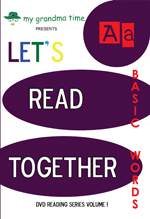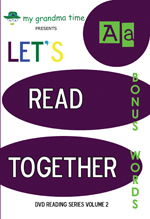 Grandma has prepared many materials to help you learn/teach how to read and speak in English.



tags:grandma, family time, connecting with distant family, family resources, relationship resources, my grandma time, visit with grandma, shop with grandma, things grandma likes, grandma's tips, my grandma time, Shirley Whitney, reading resources for bilinguals, bilingual children's books, family videos, educational videos, relational videos, preschool learning, preschool videos,Learn to read with grandma, let's read together, the letter "A", the A series, English, Learn English, phonics, Shirley Whitney, Jessica Wheeler, English lessons, aprender Inglés, aprendre anglès, apprendre l'anglais, Englisch lernen, imparare l'inglese, kujifunza Kiingereza, 영어 학습, 英語を学ぶ , 學習英語, 学习英语, home school materials, home school reading materials, home school literacy curriculum, home school art curriculum,